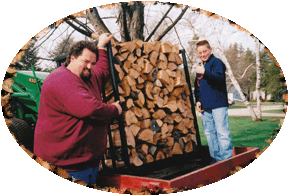 Producing Quality Fire Wood
Located in Crivitz, WI on County Hwy W
Firewood Ratings
| | | | | |
| --- | --- | --- | --- | --- |
| Species | BTU's | Output | Rating | Smoke |
| Hard Maple | 26.9 million | High | Excellent | Light |
| Ash | 24.3 million | High | Excellent | Light |
| Oak | 24 million | High | Excellent | Light |
| Beech | 22.2 million | High | Excellent | Light |
| Birch | 21.1 million | High | Excellent | Light |
| Soft Maple | 18.9 million | Medium | Good | Light |
Justifying the Cost
| | | | |
| --- | --- | --- | --- |
| Species | Heat Output Per Dry Cord | Equivalent of Heating Propane | Equivalent of Heating Oil |
| Hard Maple | 26.9 million BTU's | 280.50 gallons @ $1.84 = $516.12 | 188.64 gallons @ $3.33 = $628.17 |
| Ash | 24.3 million BTU's | 253.39 gallons @ $1.84 = $466.24 | 170.41 gallons @ $3.33 = $567.47 |
| Oak | 24 million BTU's | 250.26 gallons @ $1.84 = $460.47 | 168.30 gallons @ $3.33 = $560.44 |
| Beech | 22.2 million BTU's | 231.49 gallons @ $1.84 = $425.94 | 155.68 gallons @ $3.33 = $518.41 |
| Birch | 21.1 million BTU's | 220.02 gallons @ $1.84 = $404.84 | 147.97 gallons @ $3.33 = $492.74 |
| Soft Maple | 18.9 million BTU's | 197.08 gallons @ $1.84 = $362.63 | 132.54 gallons @ $3.33 = $441.36 |
Form the information provided in the above chart shows that the harder and denser the wood is the more BTU's you are going to receive from burning it, like your oaks, ash, & hard maple. The heat content of any fire will depend on the woods density, ash, resin, and moisture. Generally the hardwoods will provide long burning fires that contain the greatest heating value per unit.
Softwoods such as pine, spruce, and poplar, do not burn as hot as the hardwoods , therefore they can leave behind un-burned wood creosote. The wood creosote can also be referred to as coal tar that can build up carbon in chimneys from wood burning fires, increasing the risk of a chimney fire. These softwoods are also fast burning, less dense, and contain less total heat value per unit while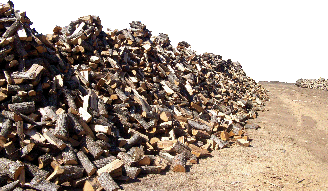 having a crackling blaze.
Allowing our wood to be dried for a period of 1 year provides a lower moisture content and creating a more efficient burn. There are two important numbers to remember when it come to moisture content; 19% and 28%.
19% moisture content = the wood is dry.
28% moisture content = benchmark fiber saturation for decay and shrinkage.