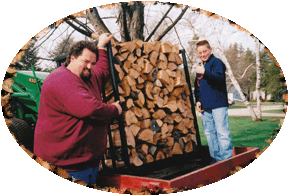 Producing Quality Fire Wood
Located in Crivitz, WI on County Hwy W
Average log length is
14" to 16"
Cords can be ordered in split oak or mixed hardwood.
Mixed Hardwoods may include: Ash, Hard Maple, Beech, Birch,
and Soft Maple.
All wood is properly dried and ready to burn.
1 Full Cord =
3 Single Face Cords Combined

From Standing Timber to Split Firewood
1 Face Cord

$60.00

1 Full Cord

$180.00

Delivery Charge

$2 per mile one way

Maximum Delivery Load

8 Face Cords

General Delivery Time: 48 Hours

8' Lengths Available, Call for Pricing
We dry our firewood for a full year before its ready.